The Harrison Animal Hospital Family
These are the wonderful pets and clients that are part of the Harrison Animal Hospital family! If you would like to see your pet showcased here, please send a photo to harrisonanimalhospital@yahoo.com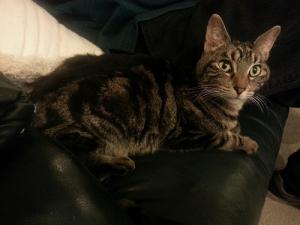 I am in a group that walk the Badlands and other trails in Miami Whitewater early Friday morning and we have done so for years. We have seen hawks, the barred owl, woodpeckers, as well as lots of other wild life. On Thursday Nov 19 I had received news that I had breast cancer. We couldn't decide whether to walk that Friday as it was 22 degrees and we were going to walk the bike path instead of the Badlands trail. We ultimately chose the trail. About ¾ of a mile in, we heard this horrible screaming animal noise like an animal in the jaws of another. We all froze. I walked about 20 feet off the trail and found a starved, frozen, dehydrated, screaming cat laying at the base of a tree under a pile of leaves. She couldn't even stand any more. What an amazing will to live that she screamed as we walked by! She would not have made it even a few hours longer. I tucked her in my coat and we carried her out. She was in very bad shape and was nothing more than a bag of bones. We took her to Harrison Animal Hospital and they tested her for feline leukemia and aids, and she came up clear. They kept her for three days , fell in love with her darling personality, and she started to eat and recover. She had very bad vertigo. We picked her up and brought her home on Sunday, still thinking we would try to find her owner or adopt her out. From the moment she stepped into our house, we knew she belonged with us. She has become healthy and strong. I had a mastectomy on December 18th, and "Little Hope" has been my companion as she fights her PTSD demons and nightmares, and I adjust to my loss. We are both working hard to overcome. We are grateful to have such a sweet and loving addition to our family. We have decided that when God gives you a cat like that, at a time that you need a little extra inspiration, she is meant to be with you. Thank you so much Harrison Animal Hospital for helping us with "Stray Cat" whose name is now "Hope."

June Chewning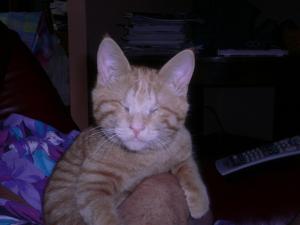 Jimmy came into our lives as a Father's Day gift in June of 2008. We believe that he was approximately 4 months old when he adopted us. I can remember how (extremely) small he seemed and I commented to my wife Elizabeth that he was too young to be separated from his Mother. I remember saying, "This kitty is too young--His eyes aren't even opened". That wasn't actually true; that little kitty was blind--he was born without eyes.

Jimmy was named after our longtime friend who is also blind. Our friend Jim says he is honored to have our little guy as his namesake.

BTW: Jimmy doesn't know that he's blind. He runs through the house just like the rest of his feline playmates. He is absolutely fearless. We've seen him jump from windows that are almost 5 feet high--a behavior that we try to discourage. Even though he's blind he doesn't have any trouble finding the food. These days that extremely small kitten has grown into a fat little monster that is always the first cat to bury his head in the food bowl.

Jimmy currently enjoys the company of 5 other cats. Of course, he thinks he is the alpha cat--just like the rest of our animals.

Ellie Kirst was responsible for caring for Jimmy when he was originally brought to Harrison Animal Hospital. Jimmy was apparently found along the side of the road. Thank you Ellie for your loving care. Just like most cats, Jimmy is very shy around strangers and never allows a stranger to pet him--much less hold him in their arms. Not so with Ellie. On one visit to see Dr. Kramer for his shots, Jimmy allowed Ellie to hold him in her arms without the slightest protest.
---